OGEN Banana Bread #24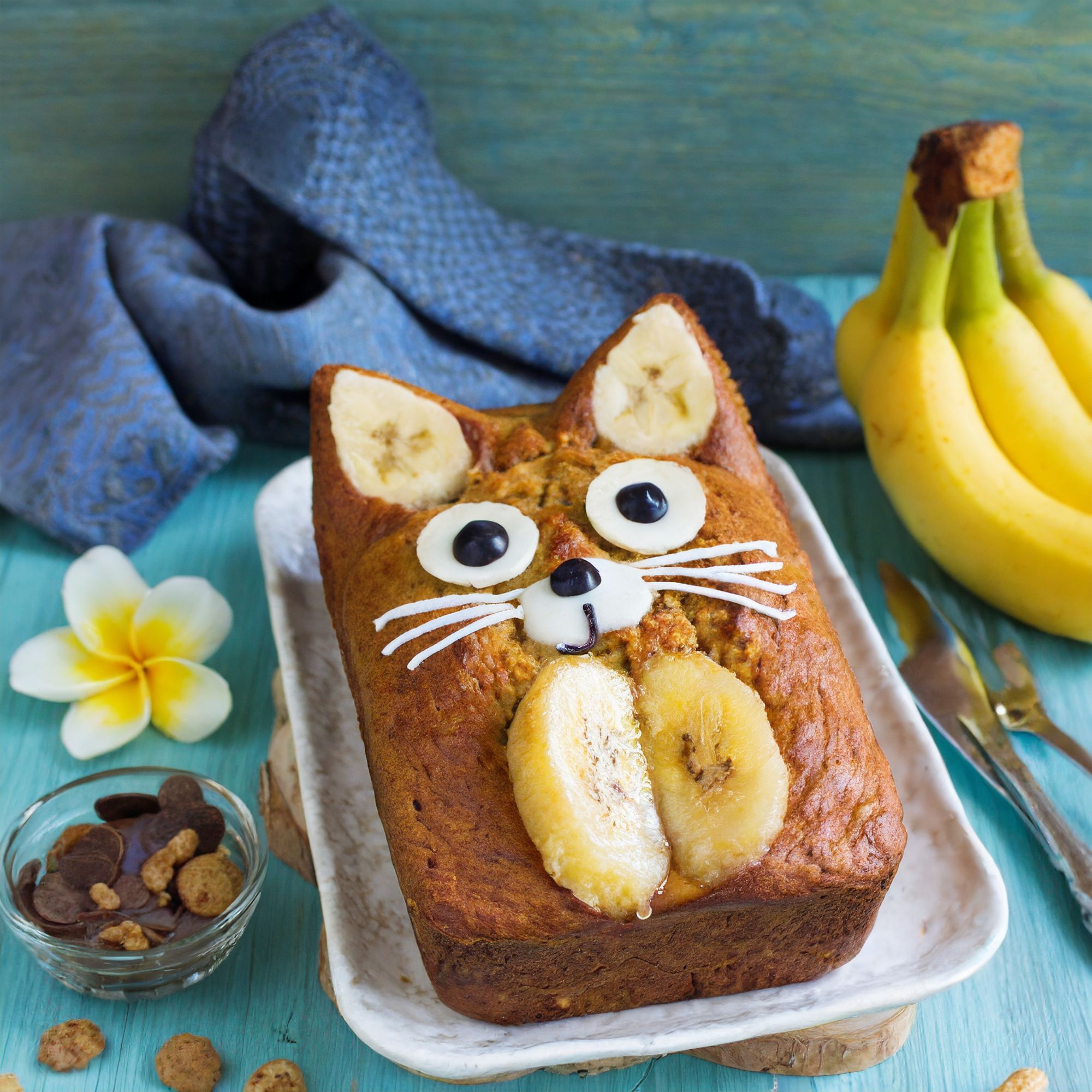 Hello pancakenap here reviewing a quarter ounce package of OGEN's Banana Bread #24.
I make a legal cannabis purchase about once a month these days. That was my main motivation for the June purchase. I saw this product listed on Canna Cabana in Crowfoot on Sunday morning, May 28th. The price seemed really good, and I was intrigued by the phenotype selection marketing. I thought it would be cool to try different banana breads grown by OGEN and compare them to this one, which is number 24.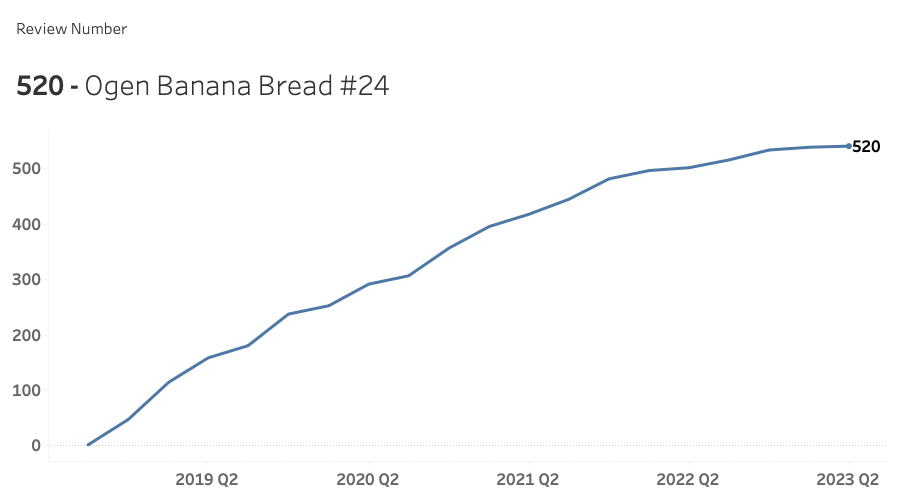 So, on Sunday morning, when the store opened at 10 AM, I hopped into my car to find this product.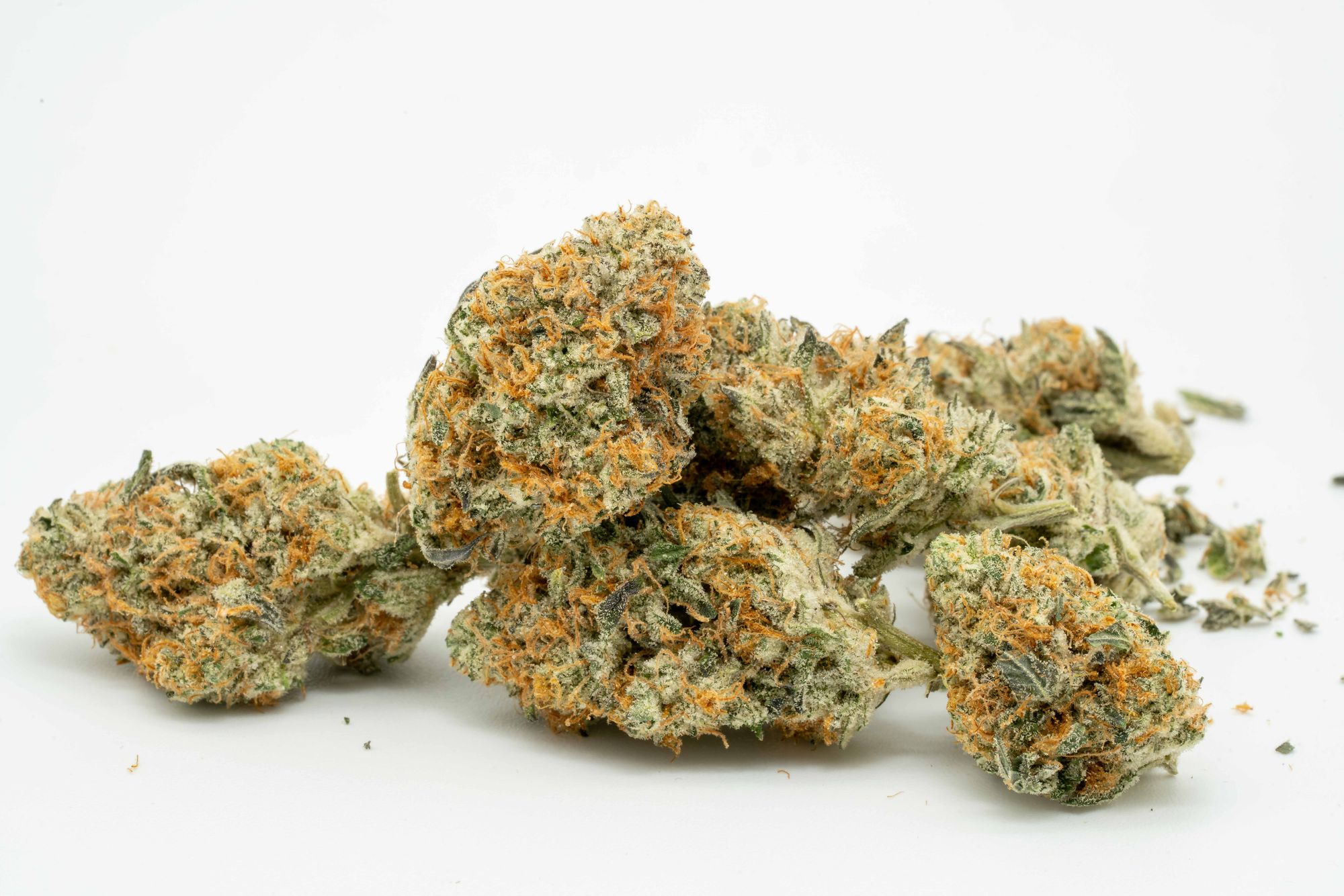 Cannabis, as a consumer packaged good these days, is quite different from the legacy or traditional market, at least at the point of sale. Much of what happens in the Canadian market involves growing popular varieties, often renamed to disguise the actual genetics and add uniqueness to the brand. That's what we have here and how OGEN usually sells their cannabis; they give everything they grow a house name. Usually, I would consider it a negative aspect of the purchase experience, but in this case, I found it fun to learn about this offering and it added some positivity to the experience. However, I acknowledge that my opinion about genetic selection is subjective and based on personal preference.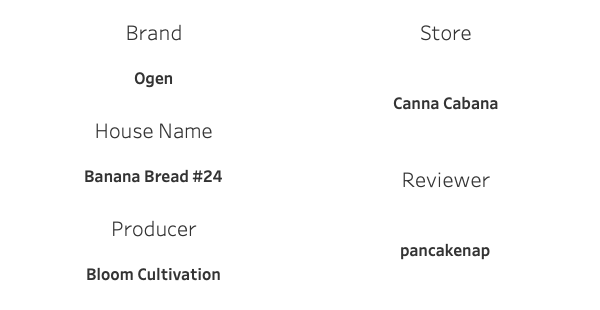 This is how the experience went for me: I decided to buy this product because of its good price. I only knew it was an Indica; I didn't know the strain name. When I got the container home and read the label, I discovered it was called banana bread. I recalled seeing a tweet about OGEN's banana bread and a link to their lot finder about a week before. That brought a moment of positivity as I was familiar with this offering.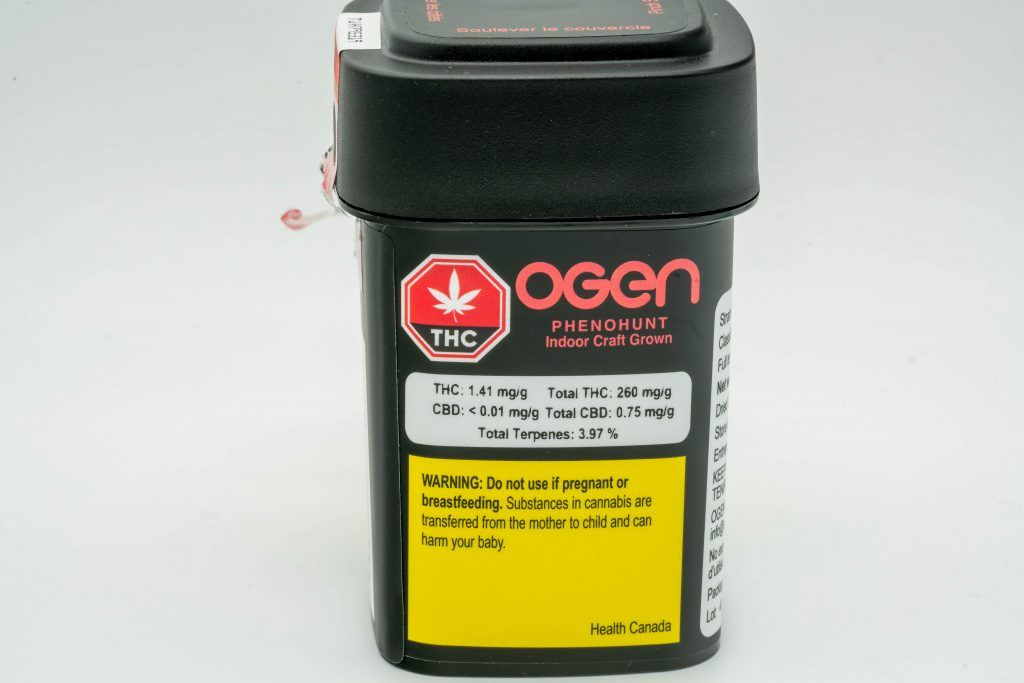 Later, when I was sitting in front of my computer, I used OGEN's lot tool to look up the actual genetics, which turned out to be Skunk House's modified banana F2. I am a fan of Skunk House, but I haven't purchased or grown any of their genetics before. I know them as the originator of the GMO funk trend. To my pleasant surprise, I discovered that this offering is a descendant of Skunk House's GMO line. Again, it added to the positivity of the purchase experience. I was not disappointed by the genetic selection.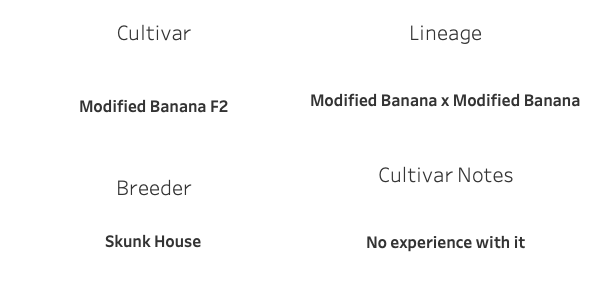 To be fair, the outcome could have been different. The real genetics could have been something OGEN had grown and offered before, just renamed. It could have been something I've grown before and didn't like. However, based on my previous positive experiences with the brand, I felt confident in this purchase. Even if it had turned out to be something I had seen from them before, like Bacio Punch, everything else would have still been a step up.
So you get to see seemingly one individual from OGEN's phenohunt of Modified Banana F2. Which I think is kind of cool but this isn't really what you would get if you did a phenohunt yourself, because you're only seeing one plant from the hunt.
I would like to see something else from this hunt. I would also like to know why this particular plant was chosen, or if it wasn't the top choice, what were the empirical differences in the lab testing and which one was preferred in the taste test? As a consumer, I care less about which individual gave the highest yield in the shortest time and care more about the one that tastes the best. However, I understand that to enter this market, a plant needs to perform well on the certificate of analysis (COA) and have a good yield to cover costs. So, which one is this and how was the decision made? I appreciate the cool branding and the desire to involve consumers in the phenohunt, but I feel like I'm missing some information about this offering.
Broken Coast used to do this with their medical patients before Aphria bought them. They would present the flower from three different individuals of Ruxton, their Sour OG offering. They didn't provide much background information, but it was still cool to see, and I think it gave consumers a crash course in phenotypic variance and what a phenohunt (or selection) actually entails.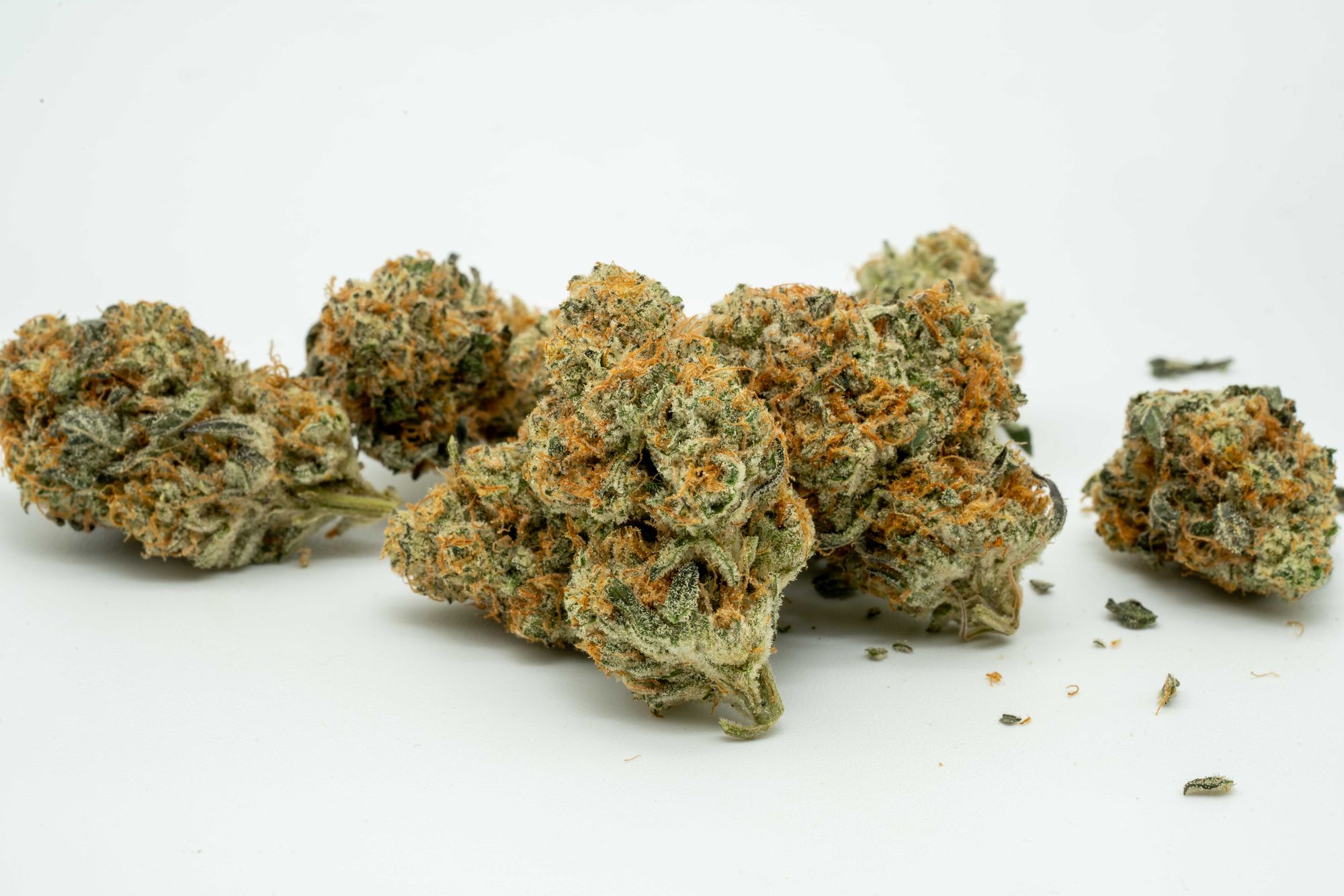 I'm gesticulating about the marketing. Somewhere within OGEN's, there are likely growers or a group of growers who must take care of the mother candidates in the phenohunt, which is probably the most challenging part. For every individual being auditioned, they have to keep a genetic backup. In my experience, it can be easy to neglect that aspect. The focus of the phenohunt is on tasting and growth of the candidates, so you tend to forget that each candidate also has a backup. Therefore, considering my comments about this offering, it's asking a lot for OGEN to grow out ten candidates and maintain ten backups. Additionally, they need to conduct taste tests and testing. It's a lot of work, but it would be really cool to have a deeper level of integration from a consumer's perspective. I feel like we're only getting a surface view here.
Anyway, along that avenue, when I read the marketing material for this offering on OGEN's website, it kind of gives the impression that we're not seeing the products of an actual round of selection or phenohunt. It seems to be more of a rotating offering, which, hey, I still want to see, but it wasn't what brought me here. So, regarding seeing banana bread number six and banana bread number 89 and hearing about the differences between them, I'm not holding my breath.
CANNA CABANA HISTORY
I've made 15 purchases at Canna Cabana totalling to $501.70.
Of those purchases, 1 was for a 7g package of Flower which averages to $6.51 per gram, 5.5% higher than the average for a 7g package across all purchases ($6.17 per gram).
On average, flower product purchased from Canna Cabana has spent 92.3 days in the package before purchase, or 19.3% higher than the average for a purchase from any vendor (77.4 days).
OGEN HISTORY
I've reviewed 9 offerings of OGEN product totalling to $260.28.
Of those reviews, 2 were for a 7g package of Flower which averages to $6.51 per gram, 5.5% higher than the average for a 7g package across all purchases ($6.17 per gram).
TERPENES
The terpene content on this batch is almost 4%, with the dominant terpene being Farnesenes. I'm not sure which lab OGEN uses or how many terpenes that lab tests for, so I can only tell you that this number (4%) is nearly 50% more than the average we track. However, it's not an apples-to-apples comparison because different labs test for different amounts of terpenes.
While we're on the subject, the number shown represents the amount of terpenes present in the flower that could potentially react. Depending on how you use the flower, these terpene levels will vary in the actual vapor or smoke you inhale. When vaping, some terpenes with higher boiling points may not evolve, and when smoking, the extreme temperature may denature or damage less stable compounds.
The olfactory process is another layer to consider. Lab testing provides the terpene content, but what actually interacts with your olfactory receptors is likely to be different.
Lastly, do any of these terpenes exhibit a change in behaviour or cell activity? My own research is inconclusive and poorly conducted, as I'm not even taking notes. For now, I'm just thankful that OGEN did the testing because they didn't have to by Health Canada's standards.
SMELL
Smell of the underground bud is rather benign has a bit of a cool plastic herb smell. I think it smells like mushrooms, but you got to get up close to sense it.
Ground up, the scent is typical gas, pine, and earth composition you would expect from an OG Kush, except with this version the earths are a bit more dirty. They have a bit more char and heat to it. The profile is akin to a hot pepper in some regards.
TASTE
The flavour profile is very smooth. Dirty dough, with a hint of sweetness, and a touch of citrus. The finish is pastry and fabric softener. The gassy elements are peppery on the inhale but they are more subtle on the exhale, and blended into the earthy tones. I liken it to OGEN's release of freshly baked, but this has less gas, and instead favours the smooth long tone earths.
GRADE
I ranked this offering an A, sliding it right behind squid pants review of Magi's Hippie Headbanger. You might not agree that it's that good but I'll tell you it makes good numbers it's an attractive, genetic performance in the olfactory and visual comment columns are good and for six dollars per gram in the current market I would say it's pretty favourable. With all that being said the fact that it will be here for a limited time only or it's only rotational adds a bit to it.
SUMMARY
I'm a fan of this offering. I think it's well grown and well priced. I think fans of skunk house will be happy with the production here and I think it offers a new twist on GMO a flavour of which is captivating in our Canadian market.
PRICE
Right now and I am buying cannabis I'm going to spend around three dollars per gram and I'm going to buy an ounce which brings me around $100 mark. I'm shopping on sales where I can double stack a coupon with another incentive. I'm getting the price down to about $80 an ounce and I like what I buy there. So when I saw this offering from OGEN's I kind of thought it was a good deal, that's why I jumped on it. The price is about double the rate of what I'm used to paying but I only have to buy a quarter of the product quantity so I thought it would be worthwhile.
WHAT'S GOOD
Check out my review stats over the last six months below.
This offering from OGEN is my new #1, followed by True Fire and Co. 33 Splitter. Check out Cream N' Tina for my #3.
Check out this post for a list of both the best and worst reviews from Squid Pants and I over the last six months.
Thanks for reading this post!