Blue Dream by Tantalus Labs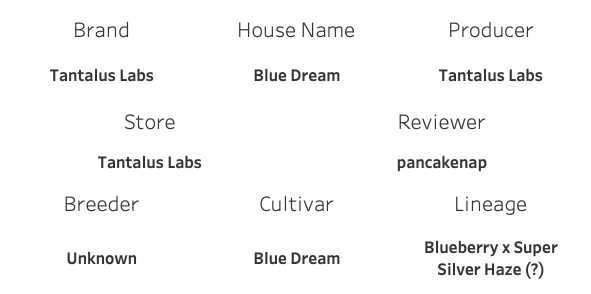 This is the 2nd review within the Tantalus range. Refer back to the Harlequin review for observations on branding, price and the range.
Let's just get right into it. We're reviewing Tantalus' Blue Dream today, time of writing about 4:30pm. It's nearing the end of the day, which is about the time I would choose to use a variety with this profile. This Blue Dream is one of two THC dominant varieties in the Tantalus range, so we'll be back around this time for another one.
Blue Dream is a popular, well known variety. It is prevalent, listed at 151 stores in Canada, mostly online retailers, at an average price of $9.98 per single gram. So, if you want a Blue Dream, you have a lot of choice. Unless you're looking only at legal, licensed producers, then you have two choices, Aurora and Tantalus Labs. Again, one of the top listed varieties market wide, carried by only two licensed producers.
Blue Dream's genetic lineage is known to be Super Silver Haze and Blueberry, but I would still expect a wide variety of tastes when it comes to 'Blue Dream'. For example, a breeder called Elev8 has a Blue Dream that is actually a cross of Kush Dreams to the Blue Dream. I can find one by Mystic Seeds that is a Blue Dream crossed to a OG Kush. I think when something becomes as ubiquitous as the Blue Dream, people naturally want to put their own spin on it, but it does leave the consumer with some due diligence.
Moving into the Tantalus Blue Dream, I find the profile more expressive of the Blueberry than Haze notes. It's rather warm, and friendly. The sweet blueberry tones are a step away from tart but still sharp, seemingly boosted by the haze notes that occupy the same area of the profile. The sweet/haze notes are mixed well and seem hard to place. On the edge, I find it dazzles before fading downwards into some comfortable light earths. After some use, the profile fades from its bookends to reveal a fairly high centred equilibrium of uppity blueberries over subtle earths.
Structurally, it actually looks more similar to a sativa with triangular shaped buds with some jagged edges. Pliability is medium high and the buds feel crispy towards the outer edge. Grinds to an ideal consistency.
Smokes well, tastes translate surprisingly strong. I found it really enjoyable but do prefer to use it in the vaporizer where the flavour is more dynamic and less two dimensional.
Overall, I think this Blue Dream has good character and some robust edges in the flavour profile. A well done rendition, sure it is received well by lovers of Blue Dream but may also please someone looking for higher strung blueberry flavours. I'd suggest that its character makes it the most pleasant taste in the Tantalus range.
Thanks for reading. Next time we'll move into one of the skunkier thirds of the Tantalus range.