North 40 Ladies Night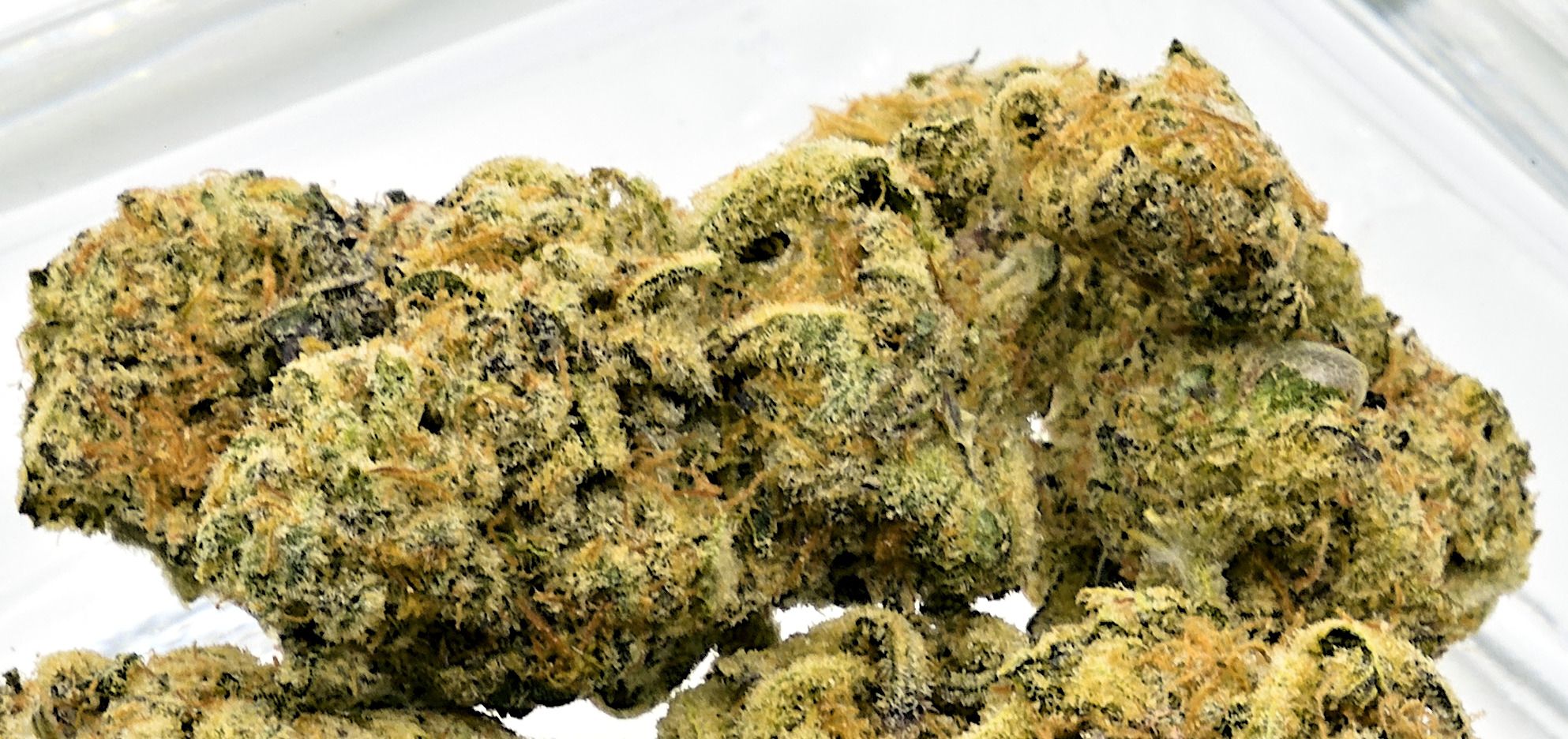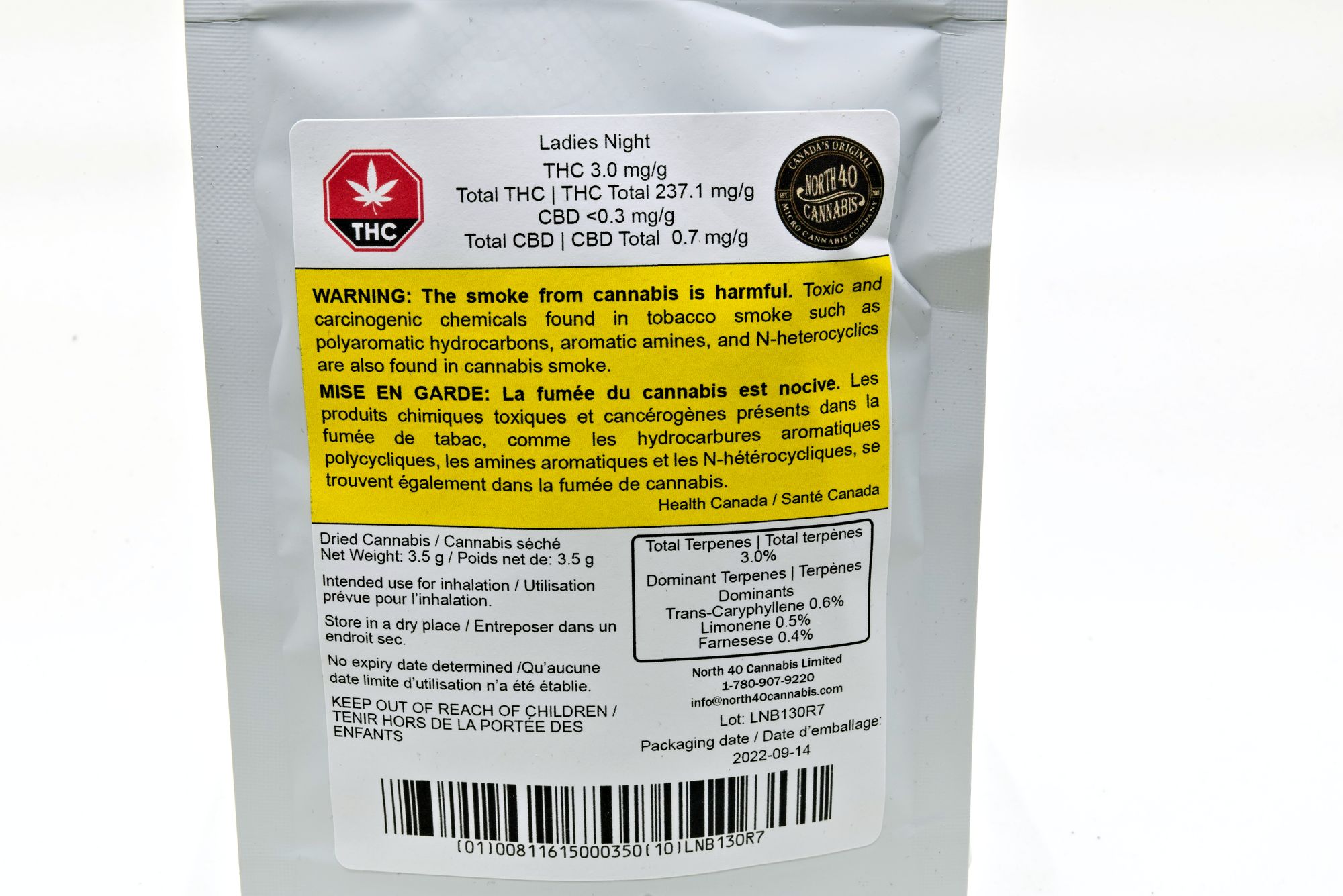 Squid Pants here checking out some gifted cannabis.  This was sent to me from Alberta by Pancakenap and they've reviewed it too, so check that out for a second opinion.
Ladies Night
For some reason I think it should be Lady's Night, such that at least one lady (or I guess in the case of multiple ladies it would be Ladies' Night) owns the night in question as opposed to Ladies Night, a night with a high content of ladies.  I guess it doesn't matter since Ladies Night isn't Ladies Night, Ladies Night is in fact Double Kush Breath bred by In house Genetics.
The genetics here are (OGKB X Secret Weapon) X OGKB V2.1.  OGKB itself is the thing of legends and there's no accepted origin story for it, but it being closely derived from Girl Scout Cookies seems to be the most popular origin for what that's worth.  Secret Weapon is Cheese Quake X White Widow. OGKB V2.1 looks to be a backcross that I would guess is intended to stabilise the line.
I remain an In House Genetics fan, so expectations are high.
Packaging
We have a heat sealed mylar bag and some really thorough labelling.  Total THC is listed as 23.71% which is a realistic number, though I found it less potent than that number implies.  CBD is negligible. Total terpenes are listed as 3.0% and with the spelling mistakes on the label fixed the dominant terpenes are trans-caryophyllene, limonene and farnesene.
This cannabis was packaged on September 14th, 2022 and I opened it 46 days later.
Looks
Looks are mixed.  All buds are popcorn and in places the trim is very sloppy but trichome coverage is great and there's some nice dark purple colouring in there.  Shape is vaguely ovoid for the larger of the buds.  There are seeds, one is clearly visible in some of the photos.
Feel
These are really dense.  It was in fact difficult to compress at all.
In the grinder the feel is off, and grinds come out in different sized dense chunks with very little cohesion.
Rolling a joint there's no compression and little stickiness so getting good form and tightness is a bit of work.
Scent
Now here is where this cannabis shines.  Unfortunately skunk scents are not from terpenes so you have no idea what this is actually going to smell like by looking at the label.  This is skunky weed.  Upon opening the package I got hit strongly with skunk, coffee grounds, rubber and varnish.  That skunkiness quickly filled my home.  After grinding further notes of fuel, funky sulphurs, menthol and a bit of anise emerged.
Taste
Joint:  OG Kush and Cookies elements compete with surprisingly aggressive sulphurs.  Waiting just under the surface are some friendly berries to counter the sulphurs.  This could be a nice variety to those that want to try out less accessible flavour profiles without necessarily jumping right into, for example, the more extreme GMO offerings out there.
I'll mention here the joint burned cleanly and didn't self extinguish.
Volcano:  Same tastes, new balance, skews earthier, more herbal.  Disappointingly the skunky elements seemed to boil off while the volcano was heating up.  Sulphurs muted, more like an OG Kush taste wise.
Price and Value
This was $31 I am told.  Since I didn't directly experience paying for this I'm a little detached from the price.  That said, by the numbers it's $8.86 per gram, and $3.74 per 100mg of THC.
Of the less tangibles that you get the fact it's really skunky, a trait I've found to be lacking in most legal offerings, so this is a huge draw for me.
Conclusions
One of the interesting things about cannabis is how varied the backgrounds and especially the opinions (and expertise of opinions) of the people you encounter are.  Of course it follows that it's impossible to know everyone's positions on everything all the time so of course a mention of any company or individual does not equal an endorsement of any of their views or actions.
Just mentioning that here.
As far as the cannabis in question, it's skunky, it's tasty, it's got its flaws but it's got a respectable price for what you get.  There's a lot to like here, and if you're also missing something nice and skunky then this is a place to find it.