Pink From Carmel
I am trying to find a good Pink Kush yet again. Yeah, I'm sure every reader has been waiting with baited breath for this nonsense again, but it's the journey I decided to take all of you on so let's get to it.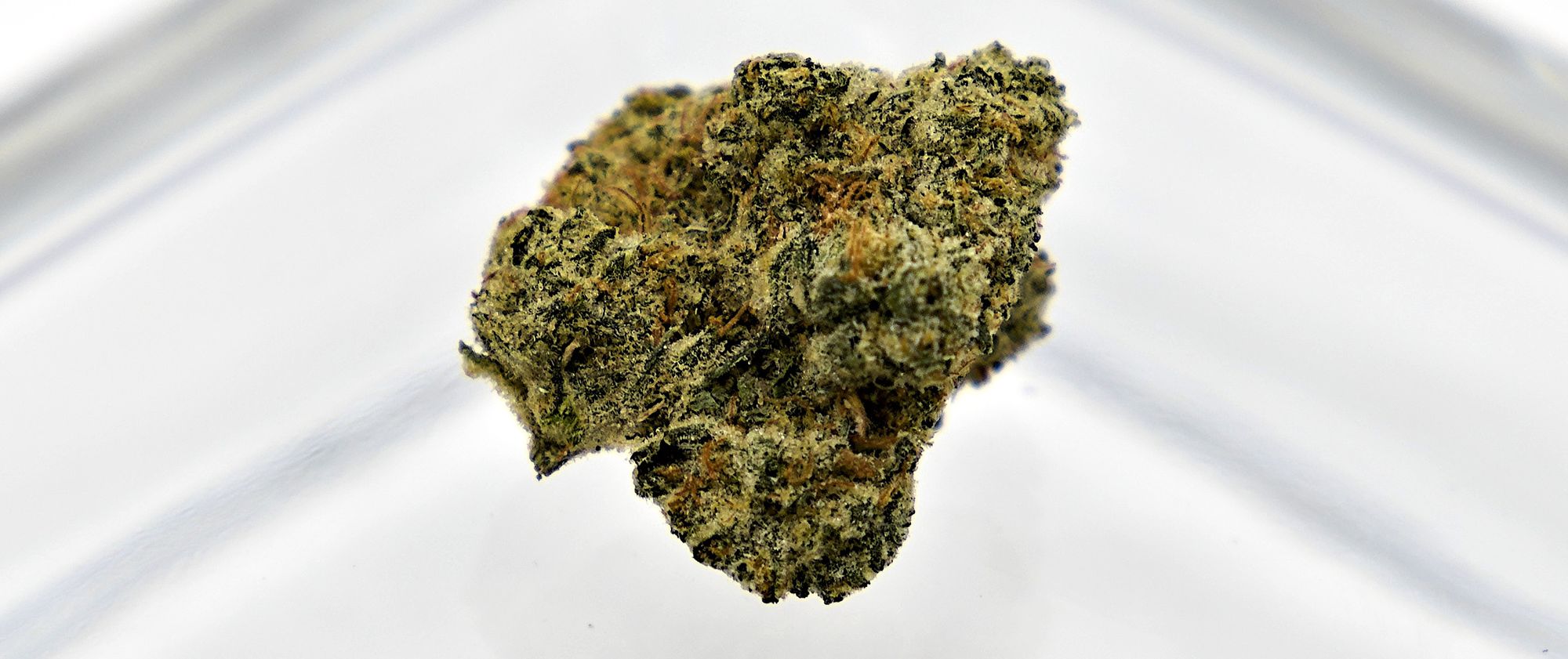 Hey, Squid Pants here!  I know everyone has become used to much better quality reviews the last few weeks in my absence but I'm back to lower the overall average quality of reviews here again.
This time I am trying to find a good Pink Kush yet again.  Yeah, I'm sure every reader has been waiting with baited breath for this nonsense again, but it's the journey I decided to take all of you on so let's get to it.
Pink
Pink can refer to a few different lines but in this case Pink is indeed a Pink Kush or a cross thereof.  If it is a cross it definitely isn't that Tom Ford cut that personally I can't stand.  In fact this is a very unique take on a Pink and I can't recall having anything that was quite like this one.  For what it's worth Carmel implies on their website that either the genetics and breeder are unknown or are being intentionally withheld.  Now this actually tells us nothing since really the original lineage of Pink Kush is unknown anyway and just the growing conditions can have such a huge effect on phenotypic expression that, well, no conclusions can be drawn.
Carmel
I am pretty open about really liking this grower, not just for their products but for the selections they choose to release from other growers under their brand.  According to them they are replacing the Drew's Pheno line of products with what they are calling Rares, which is basically the same but will feature both products selected from other growers as before as well as limited offerings grown in house. In this case it was grown in house by Carmel.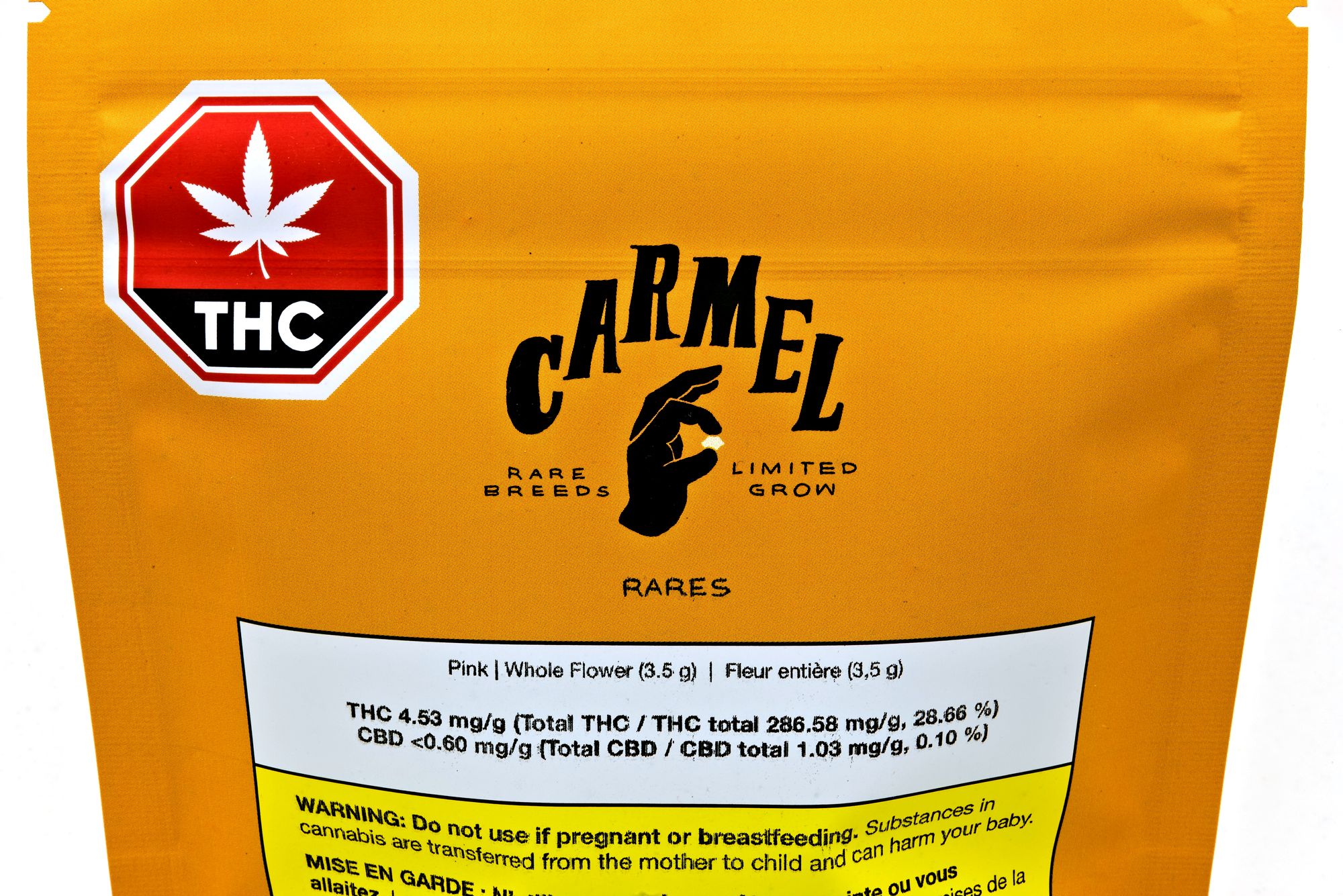 Looks
Buds are not popcorn but are to the smaller end.  Trim is very good with few examples of remaining leaf such that the shape of the buds are very well presented.  Green highlights with magenta and purple background accented by orange stigma along with good trichome coverage give a great visual impression.  It does indeed look like a good Pink Kush.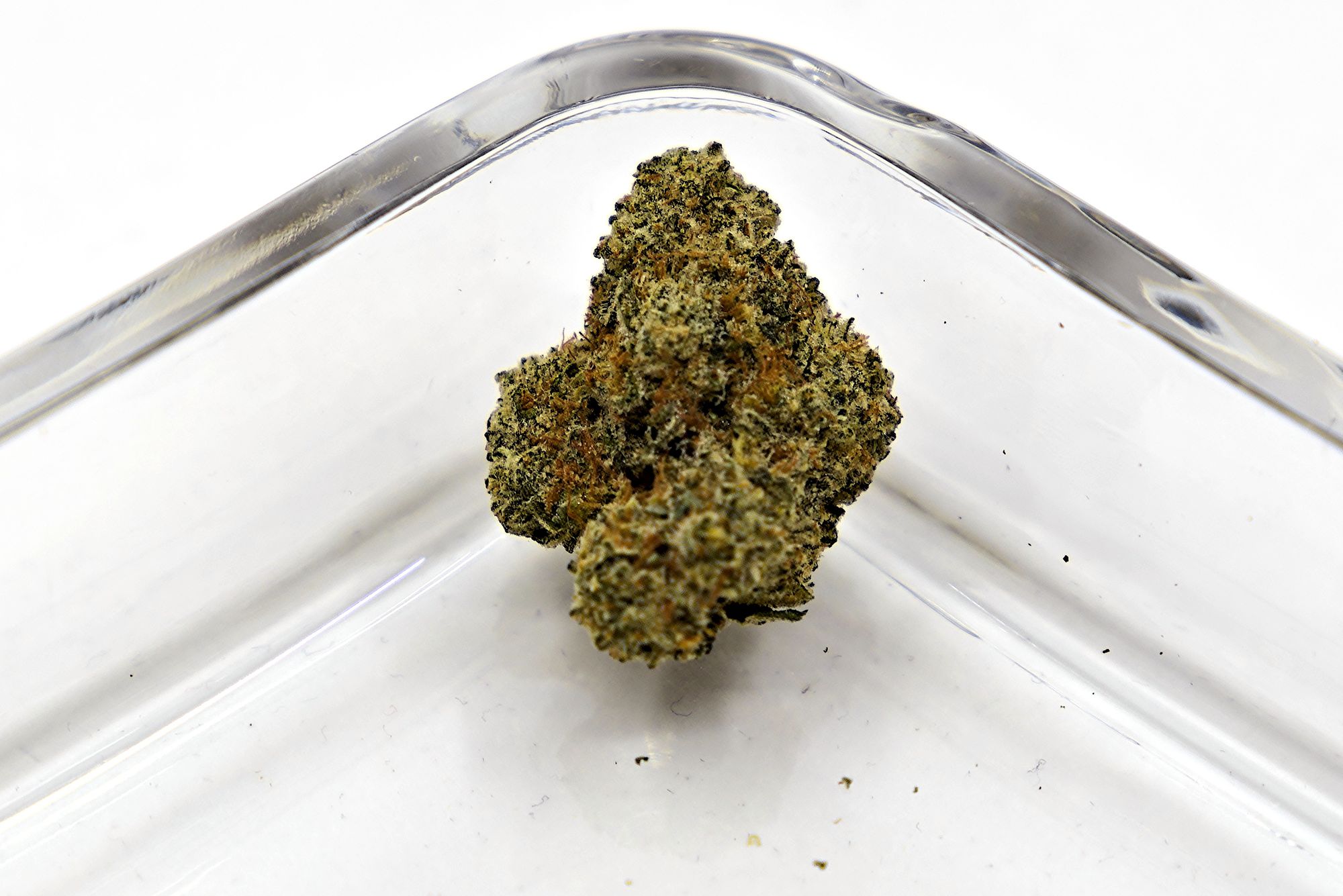 Feel
This cannabis is dense and feels really satisfying in a grinder.  Humidity is on point and compressing a bud is difficult, with suboptimal return upon release.  Grounds are a bit chunky but are easy to manage no matter your preferred method of consumption.
Scent
Upon opening the package scents are earthy, savoury with herbal and floral notes. Grinding releases additional pepper notes.  The profile so far is really on the earthier end of several Pinks I've had from other sources.
Taste
Dominant tastes are fruity and floral over an earthy, vegetative base, it's a subtle but full palette.  That Pink taste is there but is a supporting note.  This doesn't quite scratch the itch of the Pink of years past I'm hoping to find again, but this is damn fine by my measure.  Very cough inducing regardless of how you consume if you inhale.
Price and Value
I paid a whopping $49.99 for 3.5 grams, which works out to a painful $14.28 per gram.  What are the numbers on the label?  Well, since I am suspicious of all cannabis labelling lately I will note all of that information is clearly visible in the photos but I'm not going to directly comment on them.  Now this is strong and it hit me like a sledgehammer, but if you are chasing potency alone you can get something similar in the potency domain for a lot less.  You cannot get this quality surrounding every other part of the experience without paying premium prices like this, so your value call is based solely on if you think the premium quality experience is worth paying a premium for in price.  If you're a terpene focused consumer, the top 3 terpenes tested for are a quite expected lineup of Myrcene, Limonene and Caryophyllene.
I opened this on May 8th, 2023 which was 39 days after packaging.
Conclusions
I like this a lot.  It's not what I was hoping for, but who cares because what I got was extremely enjoyable and excellent in its own rights.  That price though, it's outside many people's budget as it's very much to the high end of the market.  Personally I find excuses to splurge on this brand but they are simply not an option for a daily burner.  If you are okay with this price point and want an original take on a Pink that remains well connected to its origins, you will find that here.