Greybeard Kish (Shishkeberry) 510 Cartridge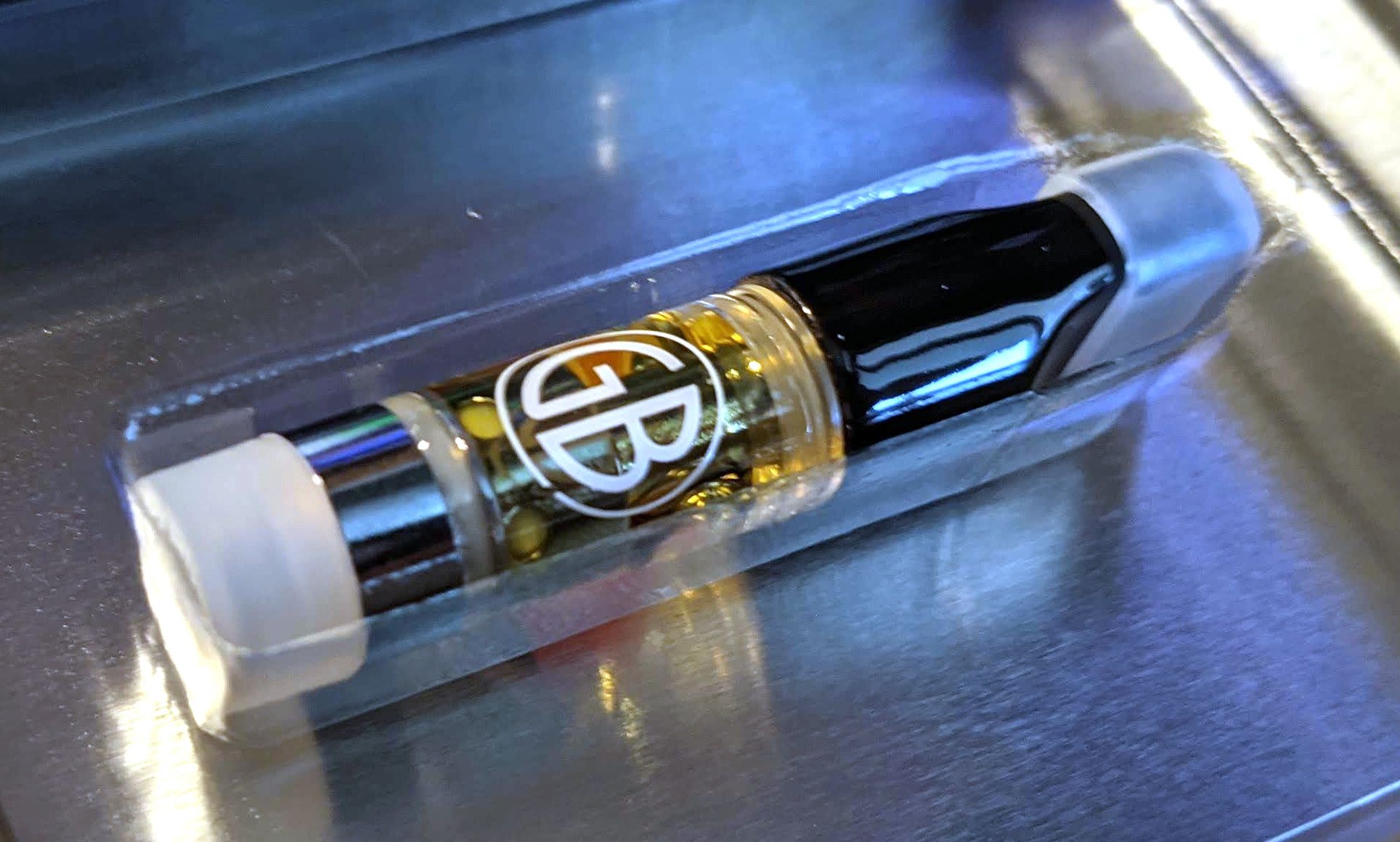 Intro
It's Squidpants here checking out a half gram cart from Greybeard. Love them, hate them or whatever them oil pens in whatever form are a non-trivial part of the legal and black markets. On the good side they are convenient, stealthy, low odor and potent allowing discrete consumption in situations where smoking could have negative repercussions. On the bad side they are expensive per milligram of active content, can leak, clog (I can almost promise you they will start clogging in the last quarter) and very often are just distillate which is flavourless and will consist of ∆9-THC only, which means no other cannabinoids since only the ∆9-THC fraction is collected which translates to a flatter experience, mixed with a simple recipe of plant and lab terpenes leading to a less than wonderful taste. I wish I could properly attribute the following observation but I remember reading from someone that carts are like the frozen dinners of cannabis. Can't say I disagree but mirroring my cannabis use I eat a lot of frozen meals and am fine with it. Hell, some of them are actually really good, just overpriced.
Shishkeberry
Shishkeberry (as Breeder Steve of Spice of Life called it), Shishkaberry, Kish or if you are my father the hilariously offensive Shiksaberry, this variety goes by many names. Greybeard's marketers went with Kish but rest assured the description matches that of Spice of Life's Shishkeberry.
I am a fan of these genetics, both the ancestors, Blueberry and a vaguely defined Afghani (but being a hashish fan in general I am positive on pretty well every Afghani I have indulged in) are solid and in this combination are very pleasing to my tastes. If you are a fan of berry tastes, a really good Kish is a wonderful treat. Unfortunately in Ontario at the time of this writing there are no recommendable dried flower products in the legal market. I've missed it and am hoping this will scratch the itch.
Greybeard
This company is under the aegis of Thrive Cannabis whose main claim to fame is being the first company to offer legal farmgate sales in Canada. This however was bought at a local-to-me store. This grower packages their indoor in two grades for sale as dried flower and their concentrates are from their outdoor crop. This product claims to be a live resin product, butane extraction and considering the extra space and efforts involved in live resin extraction a higher asking price should come as no surprise despite it being grown outdoors. Considering the placement as a premium product it was a bit surprising that they do not have the Ontario craft designation. That said, having the craft badge doesn't translate into high quality, it's only a recognition of growing and harvesting methods, nothing else. As of this writing their products are available in Ontario, British Columbia, Alberta and Saskatchewan.
Comparison to Flower
Taste wise this is pretty close to the flower I have sampled. Very close indeed. Far and away the dominant tastes are overripe berries with more than a hint of vanilla. In the minor notes more pine than I would expect with what I can only describe as almost a whisper of olives. The label says terpenes clock in at 8.479% (of course terpenes aren't the only scent compounds, but still I expect something measuring that high to be full flavoured) but the best flower I've had from the same cultivar was more intensely flavoured. The best that is, this comes close. As far as depth of effects go, this is really good for a concentrate. Some concentrates, as I said, seem one dimensional in both their tastes and their effect profile. This feels like flower. This is what I like a cart to be like, and I have had very few that reach this tier. It's not the best I've had, but it's definitely top shelf in category.
Price
Well, value depends on how you view this. For mass calculation at check out this counts as equivalent to 2 grams of flower. The equivalent in flower by that metric would clock in at 21.20% THC. Not an uncommon percentage but to be fair I've only purchased Shishkeberry in the mid teens so let's also look at this as if it was 3 grams at 14.14% since sometimes you have to consider different frames of reference. Price was $56.50 so would be like paying $28.25 a gram if it's equivalent to two grams or $18.83 if it was 3 grams. Even at 3 grams you are paying quite a premium for outdoor. The value is in the versatility of carts, not the price per 100mg THC (which is $13.32). For what it's worth the OCS gives a metric of price per 0.1 gram of cartridge contents, which for what I specifically paid is $11.30. It's as good a metric as any to compare carts at, and this one is expensive in comparison to most other offerings.
What is this in the context of the market in general? I pass off to Pancakenap for those details and will be back to offer my parting thoughts in the conclusions section.
Conclusions
I wouldn't be comfortable not mentioning the packaging. This is the same packaging their prerolls use, but with a different insert. You can see in the photos the huge waste of space this packaging accomplishes. I would guess the plastics are at least recyclable but the metal definitely isn't aluminum (magnet test says it's steel) so as far as I know it's not recyclable in municipal programs in Canada. I am very negative on this packaging and if choosing between this and something of equivalent quality I would choose the other if it had more responsible packaging due to that alone. Packing date was May 6th, 2021 which is 118 days before my first use on September 1st, 2021. I would be comfortable with this being referred to as a full spectrum extract, and that class of extracts in carts is the only class I enjoy. It's worth a bit of a premium for me but not this high. I really liked this, but the price gives a very compelling argument against purchase. If you can get this on sale though, you're in for a treat. At least as far as carts go.