True Fire and Co. 33 Splitter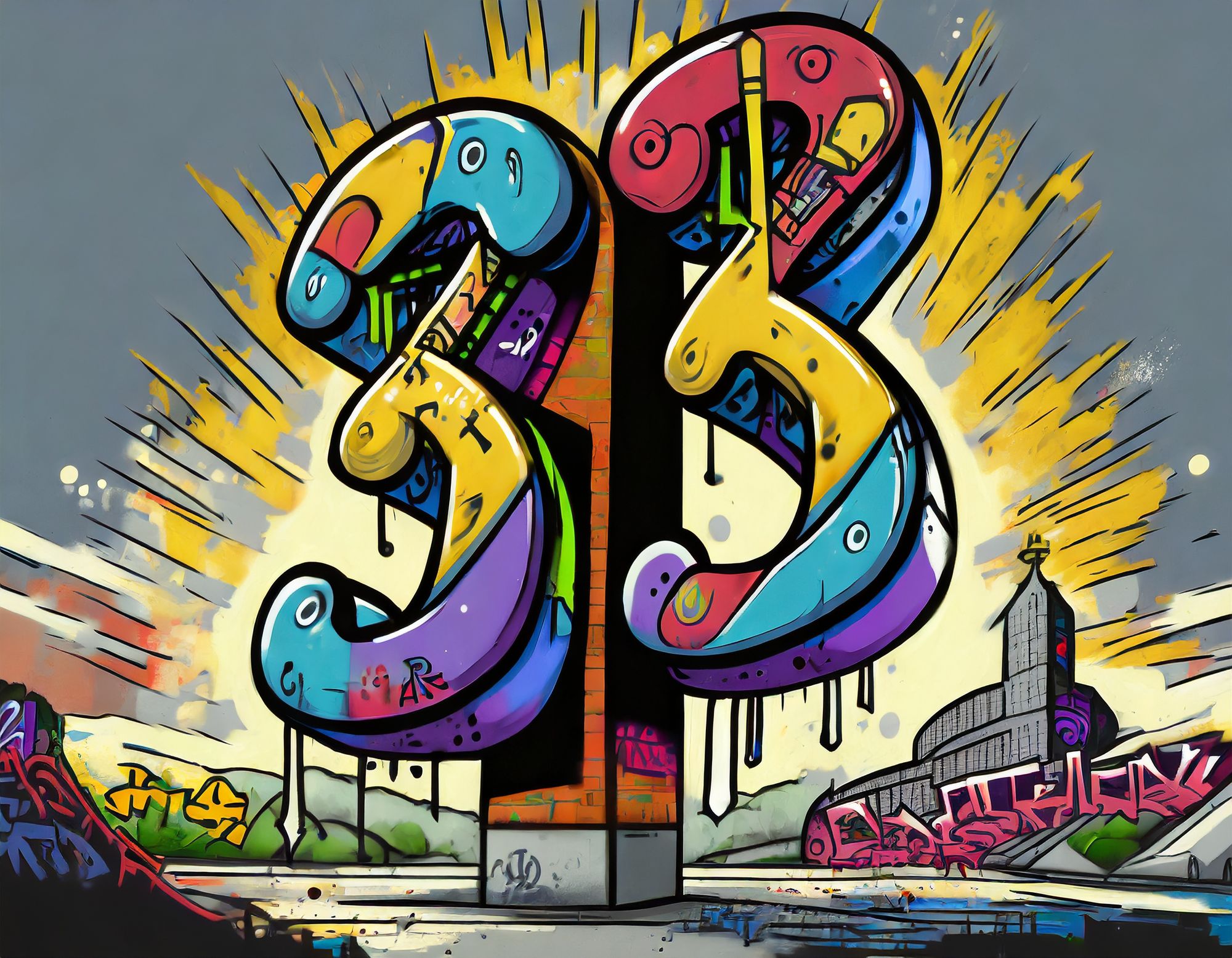 Hey pancakenap here with a 3.5 gram package of True Fire and Co.'s 33 Splitter.
This is the 516th flower product I've purchased, not including duplicates or products I purchased and didn't review.
CLEANER MEDS 33 SPLITTER
We still study the illicit market quite a bit. That means scraping listings at MOMs or deliveries and mapping their product data to align it with our database.
One of the offerings that I've noticed that a few vendors that sell super quad or quad only products is a version of 33 Splitter by a brand called Cleaner Meds. This offering regularly lists at $240 an ounce but I've learned from speaking with somebody on Twitter that you can get it around the $200 mark with a sale or a coupon. Which I would have been tempted to grab if I saw it at that price.
Nevertheless, it seems to be a commonly listed product with a higher than average price tag, that of which is an underrepresented price segment in the legal market (ounces of reliable quality priced above the $200 mark). Most of the ounces that we have available in the legal market favour the value side. Anyways, that's how 33 Splitter got on my radar.
From there one day I was shopping availability at Value Buds and saw this offering of 33 Splitter from True Fire and Co. for around 30 bucks. At $220 an ounce you're paying $7.85 dollars per gram, so I thought a 3.5 gram package at $9 per gram might be worth a look.
PRODUCT TYPE INFO
Trying to loop-in more information about our purchase dataset for the product type we're reviewing.
Here is an outline of expenditure with respect to package size of dried flower. Currently, more than 85% of expenditure has been for flower product and 40% of those purchases have been for product in a 3.5g package, which is what we review here today.
TRUE FIRE AND CO.
This is my first purchase of a True Fire and Co. branded product. I looked up their website, and there is little information about them posted. Looked for them on StratCann; nothing. So there we go, short section here.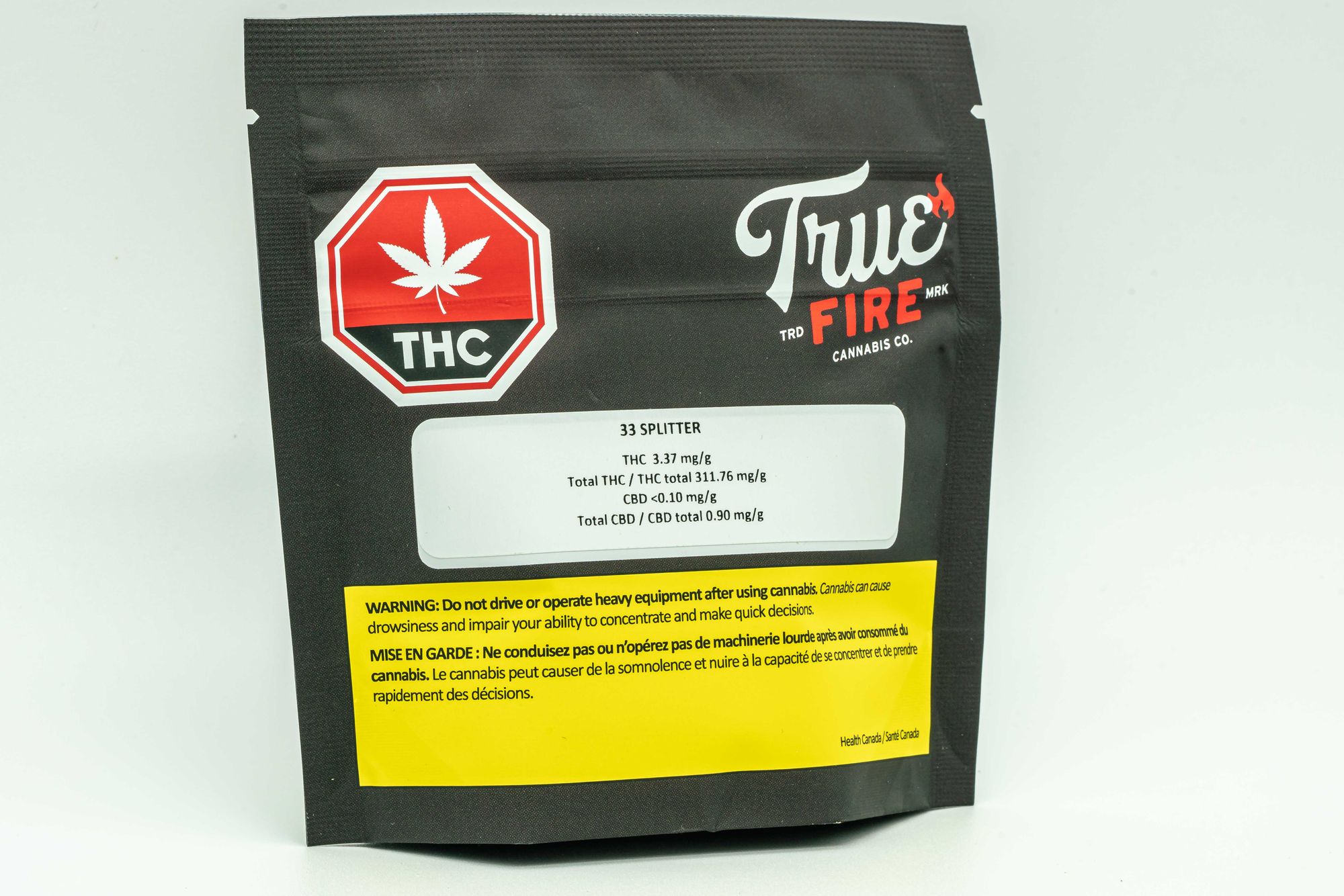 VALUE BUDS
PRICE HISTORY
I've made 26 purchases at Value Buds totalling to $875.15. Of those purchases, 18 were for a 3.5g package of flower which averages to $7.32 per gram, -21.9% lower than the average for a 3.5g package across all purchases from any vendor ($9.38 per gram).
In the case of this review, price ($31.97 or $9.13 per gram) is about 3% lower than average. I'd relate my feeling that a 3% variance from average is pretty precise to my current sentiment, the price feels pretty fair. However, with respect to my previous purchases at Value Buds, this price is about a fifth higher than normal.
CANNABINOID CONTENT
Total combined content is claimed to be 31.2% THC+CBD, which is 54.5% higher than the average content of our flower purchases (20.2% THC+CBD).
We log cannabinoid content as shown on the package. Check out this post for a chart that shows all content data we've logged so far.
PACKAGE LENGTH HISTORY
On average, a flower product purchased from Value Buds has spent 115.3 days in the package before purchase, or 50.6% higher than the average for a purchase from any vendor (76.5 days).
With respect to this review alone, the packaging length is actually pretty good, 44 days versus the 115 day Value Buds average. Even with respect to the packaging length from any vendor in the recreational market, this offering does very well comparatively.
PACKAGING TYPE
We're looking at a typical mylar bag with a heat seal. There's no information beyond the name of the offering, the brand, date packed and the cannabinoid content. Some brands choose to put the breeder and other grow information, not the case here.
BREEDER AND LINEAGE
Gelato #33 of Sherbinskis with the Atom Splitter of unknown lineage and origin. The breeder on this one is Uprising Seed Co.
QUALITY
Loud profile and tight visuals are the main strengths here. It makes a good first impression but olfactory response sets in pretty quick. It's a lot to take in at first but you get used to it by the 3rd use.
The flavour profile blares on the high side of the profile but lacks balance. Much of what it offers is centered around a sour citrus pine note.
It offers the best performance in scent and taste, but the visual and feel columns are also above average.
GRADE
33 Splitter was ranked 35% higher than the current average for flower product, earning it a B grade. Which I think it deserves, it offers a great flavour profile, but lacks balance and a certain dimension (which some may appreciate).
From reading flavour descriptions for this offering at some of the MOMs and comparing them with my own, I wonder if I got to see the full breadth of what 33 Splitter has to offer. Without double blind testing and tasting of both offerings, I'll never really know anyways.
With respect to what brought me to this offerings in the first place, I certainly didn't see anything pay worth paying $240 an ounce here for, but that may be better attributed towards True Fire and Co. than 33 Splitter.
VALUE PROPOSITION
I thought you got a wonderfully sour flavour profile overbalanced to the citrus aspect with this offering. The profile becomes a bit dimensionless by the end of the bag.
I didn't think that there is any pains with using this product. I got a few small buds, which were of a little consequence.
As far as attractions to this product, I think you can be aware of 33 Splitter from the legacy or the legal market. People from Ontario will be more aware of Ghost Drops and their release of 33 Splitter, which I suspect was produced by True Fire and Co. as well.
I never enjoy having to get in my car and traveling down to a store to buy a product. I'd much rather search an online store to find the product that I want and have it shipped to me for the lowest price possible. I will buy more products at a store to obtain free shipping. Otherwise my price pain point for shipping seems to be five dollars.
WHAT'S GOOD
Check out my review stats over the last six months below.
This offering from True Fire and Co. ranks fourth in a three-way tie currently. On top is still Gas Berries, followed by the Animal Ice Mints I saw last fall. The very likeable Pineapple Buds Pineapple Party follows third.
Check out this post for a list of both the best and worst reviews from Squid Pants and I over the last six months.
Thanks for reading this post!