Late April 2023 New Products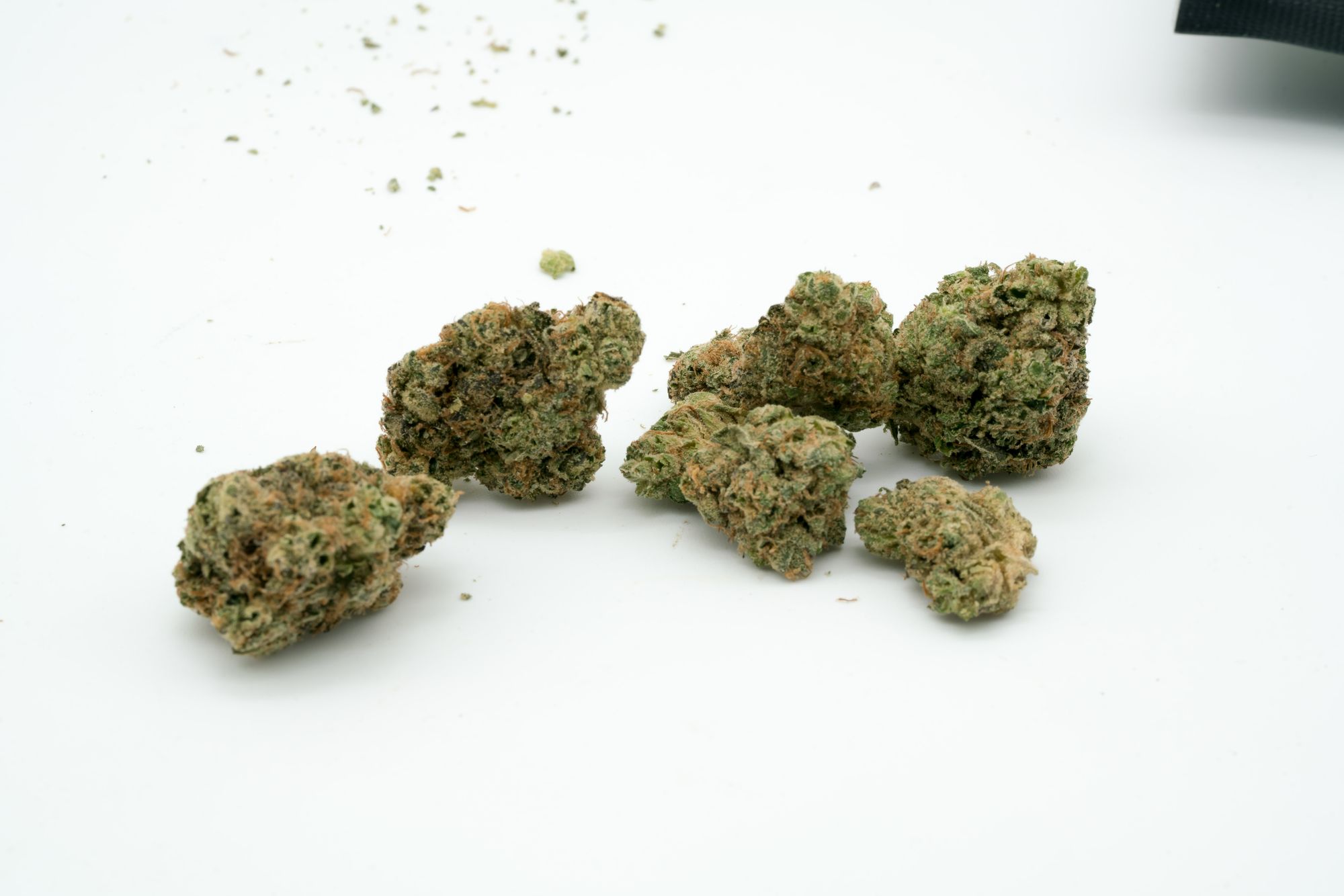 Originally published on CannStandard.
All of us that work data on this website, consume and review cannabis products as well. We are particularly interested in the new offerings in the market, their breeders and the lineages. Often one or all three of these are the motivations to purchase a product.
We built this dashboard that looks for new flower products listed within the past seven days. The dashboard won't pick up milled flower, or pre-rolls and it will only find whole flower products. General offerings like sativa, indica, No. 34 Blue or Type 152 are excluded.
To trigger an entry onto this list a producer has to list a new flower product name in a new package size. This way we catch products with the same name in varying package sizes, so not only will we find new products, newly listed products will also pick up older cultivars in new formats. Will have to be on the lookout for renames as these will also trigger an entry to this list, but we think it makes for an interesting discussion.
SCOPE
We pulled this data from about 850 legal recreational cannabis stores in Canada on May 3 2023, and it will cover all new listings in the 7 previous days.
METHOD
We're going to start to do a little bit of desk research into each new product itself; or the type of due diligence we'd do before purchasing the product. Specifically, we're noting if the product has been renamed from the original name the breeder gave it, the actual breeder who created the cultivar and the country it originated from. We will link reference the breeder website or strain description where necessary.
In this post, we're not afraid to make some guesses and go out on a limb. We intend for this to be a regular feature, however in order to remain current we cannot pause in order to confirm with all parties involved at all times. If any producers or reps would like to contact us with background information you are encouraged to do it here.
For this first post we've collected about 20 new products listed within the last week and will try to run this weekly to provide regular updates on new cultivars entering the market. We also show the province listed, the size and price averages for each. Offerings priced above $10 per gram on average are coloured in purple. Offerings below $5 per gram are coloured green.
The list follows and we outline our findings for each offering below.
ANIMAL FACE
Producer: Dykstra Greenhouse
Lineage: Face Off x Animal Mints
Breeder: Seed Junky
Origin: USA
Our Take:
Carmel Cannabis has seen success with their offering of Seed Junky's Animal Face strain. However, we're curious to see how Dykstra Greenhouse's competing offering of the same name will perform in the Ontario market, given its similar price point. If the quality is comparable to what the market expects from Carmel's Animal Face, then this Dykstra offering may be able to fill the gap left when it's out of stock.
BIRTHDAY CAKE
Producer: Freedom
Lineage: Cherry Pie x GSC
Breeder: Purple Caper
Origin: USA
Our Take:
The original Birthday Cake strain, also known as Cherry Cookies, was created by Purple Caper, a breeder based in California. It is a cross between Cherry Pie and Girl Scout Cookies. Since then, several breeders have created self-crosses of the Purple Caper Birthday Cake and offer those genetics in the market. Some of these breeders include Cannarado, Blim Burn, and United Seeds.
BLACK MOUNTAIN SIDE
Producer: Weed Me
Lineage: Wedding Cake x Thin Mint
Breeder: Bud Hub Products
Origin: USA
Our Take:
We had a bit of trouble tracking this one down but we could find one link that hinted at a breeder. The lineage appears attractive (Wedding Cake x Thin Mint), but there are discrepancies with the lineage shown and the description section. The description header encompasses a broader range, including Durban Poison and OG Kush, whereas the phenotypic lineage is more specific.
BLUEBERRY GRANOLA HAZE
Producer: Mids
Lineage: Blue Dream, Super Silver Haze, Granola Funk
Breeder: Unknown
Our Take:
We were unable to determine the breeder for this offering, but based on the lineage, we can make an educated guess at the parents. Blue Dream and Super Silver Haze have been crossed by Gage Green Group in the USA, resulting in a strain called Super Blue Dream. Granola Funk is a Wookie and Girl Scout Cookies cross created by Bodhi Seeds. We suspect that this Blueberry Granola Haze strain is a cross of these two parents.
CHERRY MOON PIE
Producer: RIFF
Lineage: Cherry Pie x Bubba Kush
Breeder: Big Buddha Seeds
Origin: UK
Our Take:
Cherry Moon Pie is a cross between Cherry Pie and Bubba Kush created by Big Buddha Seeds. This particular offering is produced by RIFF, and the grower is likely Aphria. We expect this offering to have a wide distribution, and we hope that the quality lives up to Big Buddha's legacy.
DEEP BREATH
Producer: Tweed
Lineage: WhiteMasterStarDawg x Grateful Glue
Breeder: Bullet Proof Genetics
Origin: USA
Our Take:
Two breeders were found offering a strain called "Deep Breath." However, after reviewing the product description on the OCS, it was determined that this offering is likely from Bulletproof Genetics in the USA. This is because the strain's parental lineage includes OG Kush and Sour Diesel, which are further back in the lineage of the Bulletproof Genetics offering.
GELATTI KUSH
Producer: North Ouest
Lineage: Gelatti x Kush Mints 11
Breeder: Cookie Fam
Origin: USA
Our Take:
There are several breeders that offer a Cannabis cultivar with this lineage (Gelatti x Kush Mints 11). The most notable of these is the Cookie Fam, which has named their version of this cultivar "Georgia Pie." Other breeders have created their own versions of this cultivar, which are generally called Gelatti Kush Mints or just Gelatti Kush.
GINGER DAWG
Producer: Pure SunFarms
Lineage: GMO Cookies x ?
Breeder: undisclosed
Origin: unknown
Our Take:
The producer has chosen not to disclose the lineage of this offering. There are many offerings that include the GMO cookies cross, including an offering that Pure SunFarms sells through their Fraser Valley brand called Donny Burger.
HOLY GRAIL KUSH
Producer: Broken Coast
Lineage: Kosher Kush x OG #18
Breeder: DNA Genetics
Origin: Netherlands
Our Take:
Holy Grail Kush is DNA Genetics' cross using two of their own varieties, Kosher Kush and OG #18. The average price seems pretty attractive for flower grown by Broken Coast. If produced well, this might be something to look at.
KEY LIME KUSH
Producer: Lotus
Lineage: Key Lime Pie x Bubba Kush
Breeder: Katsu's Seeds
Origin: USA
Our Take:
If you're searching for Bubba Kush, Katsu is the place to go. They have paired their Bubba Kush with Purple Caper's GSC incross Key Lime Pie. It should be worth a look from Lotus.
KUSH MINTS
Producer: Tweed
Lineage: Bubba Kush x Animal Mints
Breeder: Seed Junky
Origin: USA
Our Take:
This offering is likely a cultivation of Kush Mints grown by a smaller, micro producer and packaged under the Tweed brand. The big question for this offering is whether it can match the value offered by the similar Back Forty offering.
MATANUSKA THUNDERF*CK
Producer: Western Cannabis
Lineage: MTF x MTF
Breeder: Western Cannabis
Origin: Canada
Our Take:
This offering is Western's incross of the popular MTF variety supposedly created in the Matanuska Valley.
OREOZ
Producer: North Ouest
Lineage: Cookies and Cream x Secret Weapon
Breeder: Unknown
Origin: Michigan, USA
Our Take:
We found Oreoz offered by two breeders, Blum Burn Seeds and Third Coast Genetics. All offerings of Oreoz have the same lineage, including Cookies and Cream by Exotic Genetix and Secret Weapon by In the House Genetics.
PEACH CHEMENTINE
Producer: Msiku
Cultivar Name: Peach Crescendo
Lineage: (ChemD x i95) x Mandarin Cookies x Marionberry x OG Eddy)
Breeder: Ethos Genetics
Origin: USA
Our Take:
Msiku's Peach Chementine is a renamed version of Ethos Genetics' Peach Crescendo, which is a cross of Chem D, I-95, Mandarin Cookies, and Peach Rings. Those who enjoy other Ethos Genetics crosses may want to give this strain a try.
ROMULAN
Producer: 1964 (Rubicon Organics)
Lineage: North American Indica x White Rhino
Breeder: Next Generation
Origin: Canada
Our Take:
The Canadian staple Romulan is available through Rubicon Organics value brand 1964. We expect this to be well produced, widely available, and popular.
TIGER CAKE
Producer: Tweed
Lineage: The Menthol x Layer Cake (GMO x Wedding Cake/TK Skunk)
Breeder: Compound Genetics
Origin: USA
Our Take:
From the breeders of the popular First Class Funk comes Tiger Cake, which is based on the Swamp Boys offering of Layer Cake ((GMO x Wedding Cake))/ Triangle Kush Skunk) and Compound's own cultivar The Menthol. Like Kush Mints, we bet this wasn't produced by Tweed.
TROPICANA PUNCH
Producer: Purefire
Lineage: Tropicana Cookies x Purple Punch
Breeder: Oni
Origin: USA
Our Take:
Purefire's Tropicana Punch is based on the popular Tropicana Cookies and Purple Punch varieties, and was created by Oni. It's a well-known strain that has been selfed and offered in feminized seed by many other breeders.
ULTRA SOUR
Producer: Palmetto
Lineage: MK Ultra x East Coast Sour Diesel
Breeder: TH Seeds
Origin: Netherlands
Our Take:
THSeeds created this cross from East Coast Sour Diesel and their G13, OG Kush cross known as MK Ultra. Several large producers offer an Ultra Sour and this is one of them.
FOR MORE DATA
Join us on CannStandard for more cannabis data exploration! Our platform offers a range of dashboards from new products across all categories to top product lists that are easily filterable by product category. Additionally, we provide advanced data dashboards that explore multiple high-level market measures in the Canadian cannabis industry. For those seeking customized reports, we offer a bespoke reporting service that tracks the key performance indicators that matter the most. Don't miss out on these valuable insights – sign up today